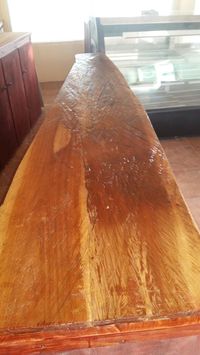 Following our Companies interior design theme, the Waterfront location in Kingston will feature indigenous woods and and a free flow design. There will be little seating inside as the beauty of the scenery, shaded seating areas and wildlife are a joy to watch.

All the menu items that are at Ocho Rios and Devon House will be available at the Waterfront. The pastries will be baked by our Pastry Chef at the Boardwalk Bistro and include such traditional items as plantain tarts, turnovers, potato pudding, cheesecakes, chocolate mocha cream cake and so much more.

We have watched in the harbor, fisherman pull up pots of fish, skate jumping, flying fish, spratt and to our suprise one maybe two dolphins. The pelicans come swooping down and glide inches over the water and there are plenty of other birds too.

---
COMING IN NOVEMBER